Spot is a 11 year old female Border Collie. She is in an Oldies Club foster home near Dalbeattie, Dumfries and Galloway. We want to rehome Spot within a 3-hour drive of her foster home. Loves company: We're looking for a home with people around most of the time as Spot loves company and enjoys being near you. Her foster carer thinks she would be suitable for someone working part-time from home as she does settle quietly when you aren't interacting with her.
She hasn't been left alone since arriving in foster but we were told that she is quiet if you go out of the house. OK with dogs: Spot is currently living with a calm, friendly, older dog, but it took Spot a little time for her to get used to sharing her space. She could be rehomed in a similar situation or would be happy as an only dog. She will look at other dogs when out and about, and will sniff, but on the whole she ignores dogs. Unknown with cats: We will be looking for a cat-free home as we don't know how Spot is with cats.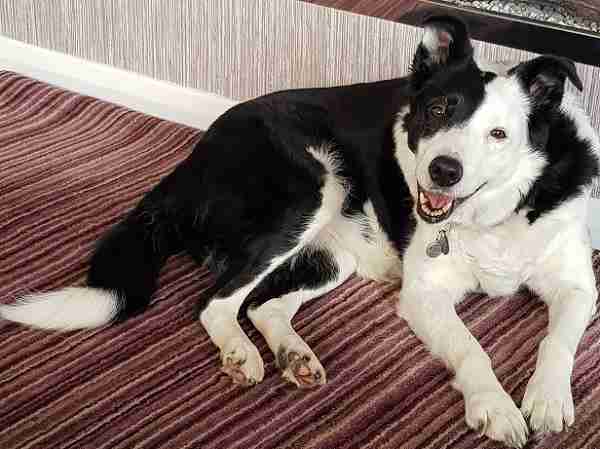 Not used to children: Although she is very gentle, Spot needs an adult-only home. Spot's favourite pastimes: Being with and watching her human; walkies and sniffing; feeding time; grooming (especially head rubs). Spot's dislikes: She's a country girl at heart so isn't keen on busy places or where there is lots of traffic. These things can make her anxious and this affects her toileting – she won't 'go'! She doesn't like off-lead dogs who have no manners; she doesn't react to them but they do make her feel very uncomfortable.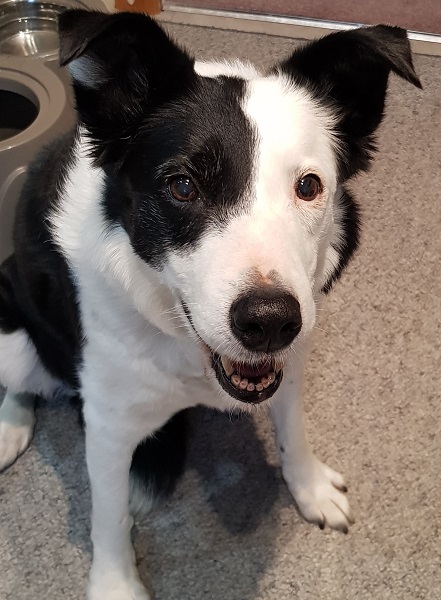 Spot's ideal home: An experienced, adult-only home in a quiet, rural location with someone around most of the time who can provide her with a good routine. Spot loves to spend time in the garden with you, so a keen gardener would be ideal. As she likes to be with you around the home, and settles quietly wherever you are, a ground floor property would suit her best. Health notes: Spot is vaccinated, microchipped, wormed and has been flea-treated. We have been told that she is neutered.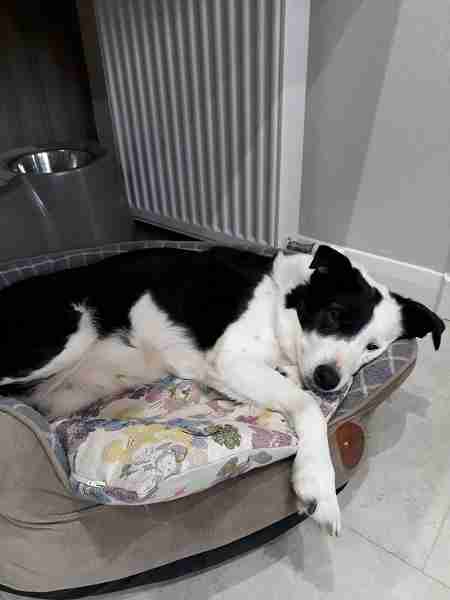 Before coming into our care, Spot suffered a seizure. Tests were inconclusive and the vet thought it was caused by anxiety due to her home circumstances. She has not had a seizure since. Spot has arthritis in her hips and takes Metacam daily. She had no spring in her back legs when she arrived in our care but this is improving. Her teeth do have some tartar but no treatment is needed at this stage. She has a skin tag in her R armpit that just needs monitoring. There are age-related changes to her eyes with slight cataracts. A recent blood test gave normal results.
OTHER USERS BOUGHT THIS!!!