Kayla is a 7-8 month old female Cross-Breed. She is neutered, housetrained and leadtrained. She is a beautiful puppy girl and she is currently around 47cm/15 kilos. Estimation to be Medium size around 54-56 cm / 20kilos. Currently in UK Wrexham, Rhosllanerchrugog LL14. She is very friendly, loving, happy and playful pup. She came to UK a week ago and unfortunately didn't get on with 4 year old son of the adopter.
She previously been around kids of different age and even already in UK been around small child so not sure what happened. But after long thinking family decided to re home her. She can be a bit shy with new people and will need time to settle after changing home.
She arrived to UK just 2 weeks ago and settled really good in family and it's heartbreaking decision. That's what family says about her: "She is a lovely, sweet, friendly girl who will follow you everywhere.
We have a great bond and it's only been a week! She is very loving and will play with stuff just to play with you! Has good recall, enjoys the company of other dogs and plays well with them while out. She is great when out off the lead and meeting other dogs and owners.
She doesn't like cars (I try and reassure her while standing on the car side with a stroke) and she is slowly ignoring them. She also doesn't like people without dogs while out, more reactive to men in dark clothes, again I reassure her it's ok and try and take her focus away onto me.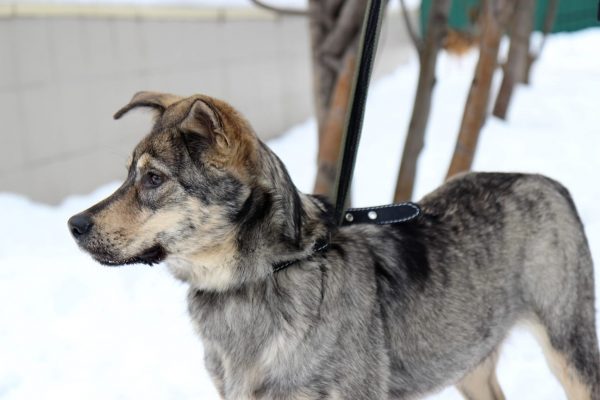 In the house she is happy snoozing next to you on the sofa, playing alone with her toys, or trying to dig up my fake grass in the yard!! In the car I have her on the front seat so she can get cuddles and lay her head in my lap!! She is very happy sleeping at the foot or down the middle of the bed at night.
She will yawn if she needs the toilet, but for a wee she seems to need to go when she knows, its only been a week so I'm happy there is no solids in the house!! We go for three 1.5 to 2 mile walks a day and have been on a 3.5 up a large hill where she was so excited when we got down she had the zoomies and jumped straight into a stream!!!
She is happy being in a house with other dogs, she stayed an afternoon in a friend's house with 2 other dogs, one rescued recently the other a couple of years ago, and they told me she was great!! Didn't play too rough In the house, after she relaxed, got on great with both other dogs, her and partner and was very gentle around their toddler daughter. I met up with them the day before and she played with their dogs zooming around everywhere!!
Before my 4yo son came down she was getting used to my life and was happy being in it, I don't know whether it was his size, the fact he is a boy or that he wears glasses, that she took a real dislike to him and low growls while staring at him. My son only comes at weekends and the school holiday, he lives with his mum around 50 miles away and they both come to stay. It's unfortunate that she has to go because of this, I'm absolutely gutted as how great she is other than this. I think that if my son was older it would be ok.
I think she should be in a house that has kids there all the time only from around 8/9years old or older, if there's kids at all. All she wants is to love you and be loved by you and be taken on walks, she's not jumpy and loves a scratch on the back of her neck. " She is very affectionate and humans oriented, good companion that loves children and other dogs.
She is very smart and love learning new things will enjoy puppy training classes or agility classes. She arrived from Belarus, where she was found roaming streets dirty, hungry and very scared. She have no known health issues vaccinated rabies, DHLPP, provided worms treatment, microchipped.
OTHER USERS BOUGHT THIS!!!