I have lots of fun photos for you this week! Starting with my turret stairs shot, where I just couldn't contain my joy.
Okay, so my excitement wore off pretty quickly. Happens when you think your human is scrimping on the treats.
Here's another "what was my human thinking when she took this?" photo! I look like I'm about to pose for a lineup.
Yes, I do have a habit of walking off the set in the middle of a photo session. Sometimes I need to discuss things with the photographer.
I went to the pet shop the other day, but my human didn't get enough good photos for a blog post. She did, however, get this photo of me clinging desperately to one of the boxes of cat toys on display.
This must have worked, because my human got me a cat toy while we were there!
I hope my outtakes (and bonuses) made you smile today! If you have a favorite, let me know in the comments.
Other posts you'll enjoy:
* * *
---
---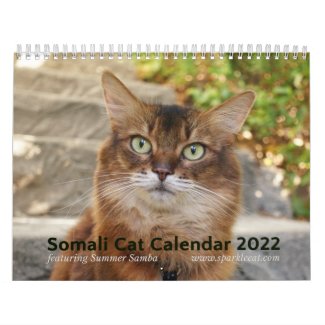 2022 Somali Cat Calendar Starring Summer Samba
See all of Summer's merch at her
her Zazzle Designercat Shop
OTHER USERS BOUGHT THIS!!!