From NSBA
All text and photos from the National Snaffle Bit Association
The first Saturday of the NSBA World Championship Show and Breeders Championship Futurity featured Working Hunter, Equitation Over Fences and Heroes On Horses classes in the Ford Truck Arena and a number of Trail classes in the Pavilion, as Show Your Colors classes finished up around the Built For Truck Livestock Complex in Tulsa.
The Color Breeders Championship Futurity saw Nostoppinthemoolite take the futurity win with Ashley Dunbar-Clock riding for Emily Miller, earning $1,602.97.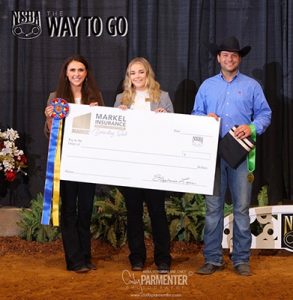 A Yearling Sale graduate also earned a share of the Three Year Old Graduate's purse when Crawl On Me, shown by Melvin Yoder for Rebekah Tackett, placed fourth in the class. Sale graduates that place in the top ten of the class they declare prior to showing become eligible for a share of additional money when they sell through the NSBA Markel Insurance Breeders Championship Futurity Yearling Sale.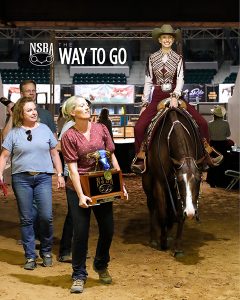 Other Trail world champions included Batt Attitude and Abigail Eddy winning the championship in Novice Youth Trail. They scored 239.5 during their Trail go and earned $637.96 for their world championship.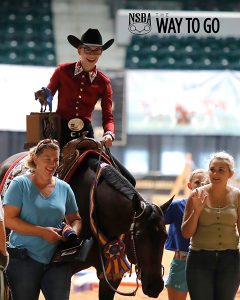 In Youth Trail 13 & Under Trail, Made Just For U and Kenidee Thomas, showing for owner Jane Knelly, earned an NSBA world championship title. After scoring 237 during their go, the duo earned $420.22.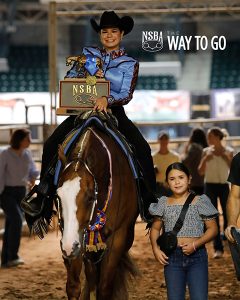 Color Youth Trail closed out the Trail events for the day in the Pavilion with Just A Touch More, shown by Avery Mortman for the Grace Layne Ranch LLC. This team scored 237.5 on their way to the world title and $406.35 in earnings.
 
Hunting World Championships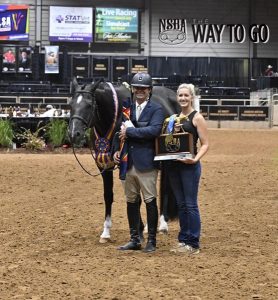 The Ford Truck Arena saw Open and Non-Pro Working Hunter and Equitation Over Fences hunter riders test their skills on the David Warner-designed courses.
Ryan Painter continued his winning ways at the 2023 NSBA World Championship Show by starting the day with a world championship in Green Working Hunter aboard Only Time Will Tail, showing for Kimber Mitchell. It was an emotional win for Kimber.
After Kimber's grandmother bought Only Time Will Tail's dam in the Congress Super Sale with the colt in utero, Kimber took her time with the gelding. "When I moved to North Texas for work, I didn't know anyone, and I ended up about 20 minutes from Pilot Point," Kimber said.
"I was originally at a dressage barn, and then I ended up in the same barn that Ryan leased. Ryan and Lance Bryson randomly pulled Leo out of the stall one day and put him in the round pen. It was a bit of trial and error, but Dustin Eickenhorst started him and then Ryan started working with him in 2021. It's been a really long road, but we won a world championship in Level 1 Novice Amateur Hunter Under Saddle last year.
"My grandmother raised me, and she passed away in November. I feel like she's watching over me and Leo, and I feel like she had a hand in helping us along. This horse really put me on the map in the industry. He's extremely special."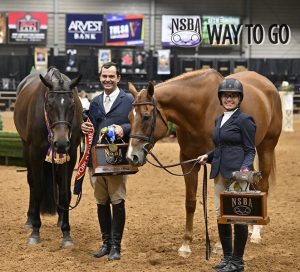 Ryan ended his over fences classes with not only another world championship title in Open Working Hunter with My Next Edition, showing for Hana Thomas, but also a reserve world championship showing Thrift Shop for Jo Ann Niffenegger.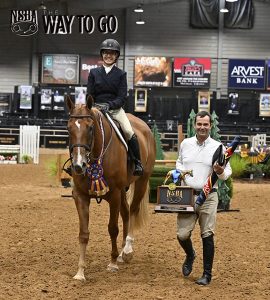 Jo Ann Niffenegger had a new show partner at this year's NSBA World Championship Show, and the new partnership resulted in two world championships. The duo won Amateur Select 50 & Over Working Hunter as well as Amateur Select 50 & Over Equitation Over Fences.
"This is just our fifth horse show together," Jo Ann said of Willee. "David Miller had this horse and then he went to Ryan Painter. He had been hanging out in the pasture when we started putting him back to work. He's a really good boy and a pleasure to ride.
"I ended up buying him because my horse Reggie had colicked earlier this year, and he's just now getting back into training. Reggie will be back for the Congress and AQHA World Show, but Willee isn't going anywhere."
Dr. Elaine Haw and Last Hawliday took the world championship in Amateur Working Hunter, and Denim Wellhouse showed Every Once In A While to win Youth Working Hunter.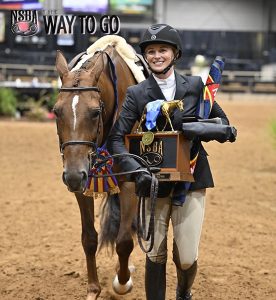 The Amateur Equitation Over Fences class saw Living In Stilettos, shown by Whitney Fouts, earning the duo's first NSBA world championship. "I had never been to the NSBA World Show before," Whitney said. "We love it here, and showing in the Ford Truck was great."
Living In Stilettos is by Living Large and just started her second career in over fences classes. "Stella did Hunter Under Saddle before. I've only owned her for about a year, but I love her," Whitney said. "We call her Stella. She is so funny in the stall. If she is laying down and you go in, she will rest her head on your shoulder."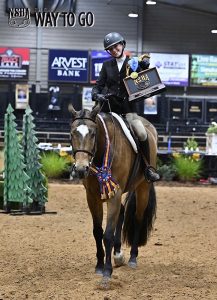 Another first-time NSBA World Show exhibitor took the world title in Youth Equitation Over Fences when Madison Furlong and Luvin N Leavin took the win. "I've been riding and showing since I was a little girl, but I hadn't shown here before," Madison said.
"I've had Champ for about a year and a half. He's six years old and is by Coats N Tails and out of Hope Its Barn Time. In our class today, I was concentrating on keeping my body back and riding my ring. I knew if I stayed relaxed that he would stay relaxed.
"Champ is a sweetheart but he's really a momma's boy. He's very particular about his people, and I'm kind of the only one he likes. He likes his treats. He's my best friend. He's living up to his name, Champ, since we won this class and were reserve champions in Youth Working Hunter."
Denim Wellhouse took the Youth Working Hunter world championship with Every Once In A While.
In the Heroes On Horses class, Kristie Kay Vollrath showed KM Flat Out The Best flawlessly to earn the world championship title. Kristie is a US Marine Corp veteran.
The 2023 NSBA World Championship Show and Breeders Championship Futurity continue through August 20. To view complete show results or learn more about NSBA, please visit nsba.com.
Autor Delores Kuhlwein
OTHER USERS BOUGHT THIS!!!