I got to spend some quality time out front yesterday afternoon. We are going to have a heat wave the rest of the week, so it will probably be too hot for me to go out. But I got to enjoy the nice weather for about an hour before dinnertime.
Hanging out on the grass is always pleasant, and I love to dance and make happy paws on the lawn.
Sometimes I want to stay in the yard, but on days like today, I like to wander. So I went down the walkway and posed for a few photos.
You can tell how late in the afternoon it was by this photo.
Then I walked along the curb over to the other side of the house. I got to chase a crane fly! But my human wasn't fast enough to catch any photos of that, so you will just have to take my word for it.
Other posts you'll enjoy:
* * *
---
---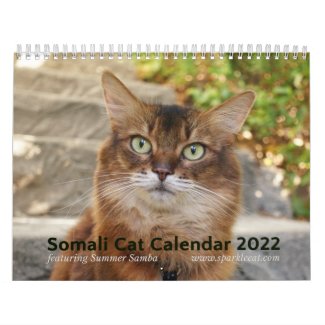 2022 Somali Cat Calendar Starring Summer Samba
See all of Summer's merch at her
her Zazzle Designercat Shop
OTHER USERS BOUGHT THIS!!!